If you like experiencing history by walking in the footsteps of long-ago people, you will love Canterbury Shaker Village in New Hampshire. The national historic landmark includes guided tours, a very informative Ken Burns video on the Shakers, and a chance to wander through buildings steeped in Shaker history.
We visited there two years ago and despite a thunderstorm that left us a bit damp, we enjoyed the informative exhibits. It was a marvelous opportunity to see the rooms and buildings looking like the Shakers just stepped out for a few minutes.
There's a peaceful feeling throughout so pause in each space from the meeting house, the old school, the infirmary, or the work areas to savor what their life was like.
Admission was $17, but I felt it was well worth the price. The video takes 1 hour. There's a choice of the regular 1-hour tour or the 1 1/2 hour innovators tour which focuses on the inventions of the Shakers. Three of the buildings can only be seen if you take one of the tours.
I'd recommend setting aside a whole afternoon for exploring the village.
You can take a video tour to pique your interest.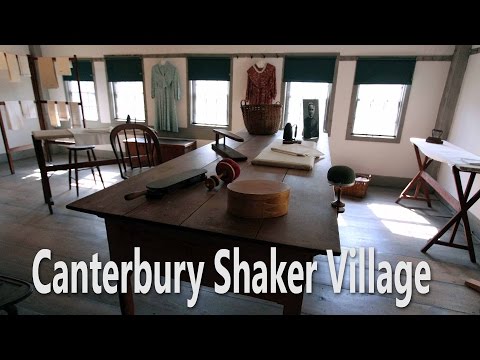 All Photos by Virginia Allain 
More about the Canterbury Shaker Village
The Shaker Kitchen: Over 100 Recipes from Canterbury Shaker VillageView Details
Neither Plain nor Simple: New Perspectives on the Canterbury ShakersView Details
A Shaker Family Album: Photographs from the Collection of Canterbury Shaker VillageView Details
Historical New Hampshire Canterbury Shaker VillageView Details